The Candle Light Service is held annually during the Christmas Season and is a Christmas tradition for many area residents.
For 2015, the service will be held on Tuesday, December 22, at 7:30 p.m. This non-denominational service has been a Starksboro Village Meeting House tradition for at least 50 years.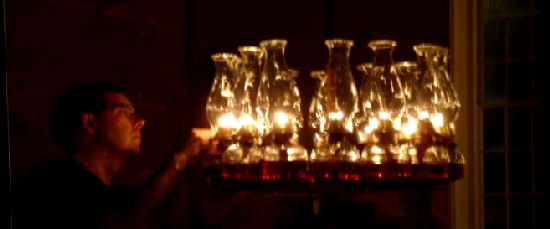 The Candle Light Service at the Meeting House is a unique experience. The service is held in a sanctuary where electric lights are a secondary way to light the space. The sanctuary will be lit with many candles and a mirrored oil lamp chandelier dating from 1884. This Service, which centers around the Christmas Story and the popular candle lighting ceremony, is held in a sanctuary where little has changed from when it was last used as an active Church in the early 1900's, offering a nostalgic glimpse into the past.
Delicious Christmas refreshments will be served afterwards.
Everyone is welcome. Please join us and feel the spirit of the season.
Parking is available in the Town Center Parking Area or at the Baptist Church. The path from the parking lot to the Meeting House will be well lit.
The Meeting House, built in 1838-40 and listed in the National Register of Historic Places, is located on VT Route 116 in Starksboro village.
For more information, call 802-453-5227.