The Starksboro Village Meeting House, which was built between 1838 and 1840, allocated the basement as a meeting room for the Town of Starksboro.
At the annual Starksboro Town Meeting held March 6, 1838, voters voted to "raise a tax of Four Hundred Dollars for the purpose of furnishing a town room in the basement story of the meeting house contemplated to be built in the village" as written in the Town of Starksboro's First Book of Minutes, Starksboro Annual Meeting, p. 164.
On May 8, 1838, the Starksboro Village Meeting House Society was deeded two adjacent parcels of land in the center of Starksboro.
Up until that time, town meetings were generally held in the village schoolhouse.
Enough work had been done on the Meeting House basement town room for a town meeting to be held on April 4, 1839.
The "Town Room" was reached only through the doors on the north side.
In 1909, the Town of Starksboro appointed a committee to look into buying the Meeting House as more space was needed for town and community affairs, but the next year decided to appropriate $4000 to buy a lot and build a Town Hall.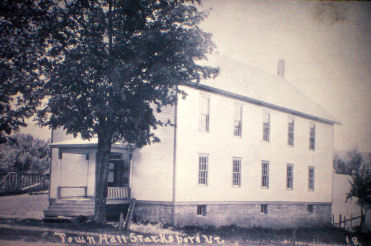 In 1911, the Town of Starksboro moved from its basement meeting room to the new town hall.
For additional information on the Town Hall, see Chapter 1982 in Bertha's Book
This history page is based in part on the application by the Meeting House for listing on the National Register of Historic Places. The full application can be seen here.